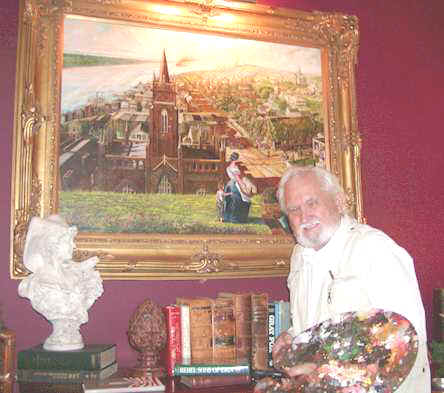 Sky Parlor Hill
Jerry McWilliams received his early training from the Chicago School of Art. He also studied with Mr. Frank A. Atkinson who rendered the artwork in the rotunda of the new State Capitol Building in Jackson. McWilliams' primary works are oil portraits and the recording of the 18th and 19th century historical events. Several of the paintings are shown regularly on the History Channel.
McWilliams has a deep love of history that is always reflected in his art work. He makes his home just outside Raymond in a lovely antebellum plantation home known as Southern Cedars, circa 1834. His paintings are on display throughout the home.
One of McWilliams' most famous paintings, The Sinking of the U.S.S. Cairo, now hangs in the National Military Park at Vicksburg. This painting represents the first in a series of twelve Civil War scenes being painted by McWilliams. Prints of this work have been distributed throughout the world and some are still available. Another famous painting of McWilliams' is The Old Grist Mill - a depiction of the old gristmill as seen at Grand Gulf State Park. This lovely painting depicts not only the gristmill but the millpond and Sacred Heart Catholic Church as well. One of McWilliams' most popular paintings is Jefferson Davis with his Dog, Traveler. This original of this painting is now on display at Beauvoir in Biloxi, Mississippi. Another painting reflecting Civil War times is Sky Parlor Hill, a large oil painting depicting the Siege of Vicksburg. McWilliams' finest life-sized portrait is one of General John C. Pemberton. This painting hangs in the Old Courthouse Museum in Vicksburg so it can be enjoyed by tourists visiting the historic city.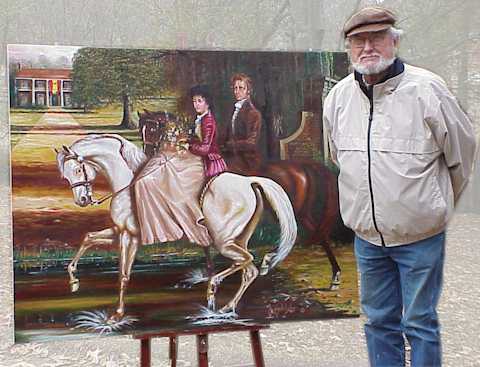 Except for You - The Love Story of Andrew Jackson and Rachel
Jerry's latest painting, Except for You - The Love Story of Andrew Jackson and Rachel, was unveiled at the Mississippi State Capitol last year. "I would say that this painting is my favorite," states Jerry of his most recent accomplishment. "The painting depicts Andrew Jackson and his love, Rachel, on horse-back in front of Springfield Plantation in their happier days."
Jerry is currently painting a portrait of Col. Randal McGavock, Confederate officer killed during the Battle of Raymond and Captain Patrick Griffin, a teenager who fought with the 10th Tennessee Infantry and helped to bury his commander, Col. McGavock.