Southern Cedars - Living With Art and History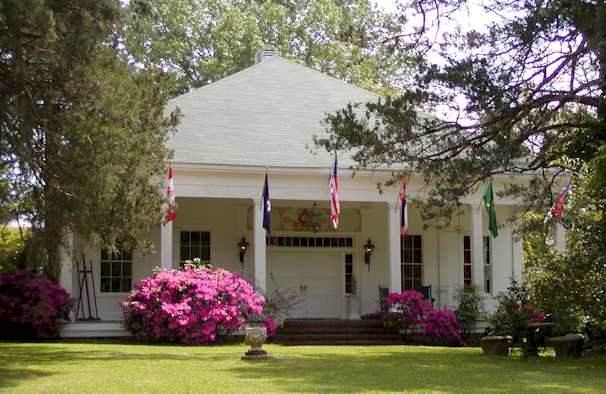 Southern Cedars, circa 1834, plantation home of Jerry and Kay McWilliams.

Southern Cedars, architecturally referred to as a Greek Revival Louisiana Planter's Cottage, was built circa 1834 by Joseph Dennis, a native of Jones County, Georgia. After moving to Hinds County, Joseph married Phebe Granberry, the daughter of Stephen and Elizabeth Granberry of Cedarcrest Plantation. Joseph purchased land approximately ten miles from Cedarcrest and built Phebe a home identical to Cedarcrest. After Joseph and Phebe moved to Hazelhurst, Southern Cedars became the property of Phebe's brother, Jesse Dykes Granberry. The sister homes still exist today.
Outstanding features of Southern Cedars are the massive front doors and fourteen-foot ceilings. The high ceilings and spacious hallway, now transformed into Southern Cedars Art Gallery, complements the antebellum home.
The Granberry plantation was less than two decades old when the war erupted in 1861. Jerry commented on the plantation and the Granberry family saying, "When the war broke out, Jesse Dykes Granberry, owner, left and joined the Confederate Army. Three of his sons joined as well, including Stephen Henry Granberry, one of the youngest. Stephen Henry joined Terrell's Division of the C.S.A. and eventually rode with the famous Nathan Bedford Forrest."
The McWilliams family purchased Southern Cedars in 1962. "The McWilliams family has lived in the house for the past forty years," states Kay regarding the family home. "Today, the house appears much as it did around the turn-of-the-century. Original trees flank the home and the rolling grounds are just as appealing now as they were a century ago. We have been fortunate in that we have amassed a great deal of the history relating to the home. One of my favorite stories is that of Jessie Dykes Granberry who was fighting in Virginia at the time of the surrender. Even though Jessie had been badly wounded, he began the long walk home. When he finally arrived it was late at night and he didn't want to wake the family. So, he just sprawled out on the front porch and went sound to sleep. That's where the manservant found him early the next morning. Everyone was so excited to find the master home. Stories like this are what gives life to the old house."
Undoubtedly, Southern Cedars is one of the best-kept secrets in Mississippi. The home will be featured this coming year on the popular program If Walls Could Talk, aired by the Home and Garden Channel.